Something positive
But first…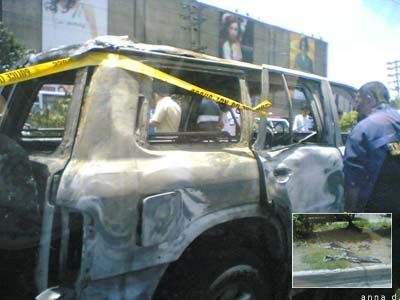 What a sight on a sunday morning. The photo shows a blown up Nissan Patrol in front of a local mall by north EDSA. The inset shows shards of the vehicle's glass panes lying lazily a few meters from the Nissan.
I'm not even going to speculate about the political implications of this incident. But I have my suspicions.
***
On last night's episode of GMA7's Imbestigador, the show's team dispersed 80 wallets across Metro Manila and watched what would follow. Each had Php200 in them. It was a test of honesty. Nice.
They said the results would be shocking. But holy hell, I didn't expect it to be this schocking. Out of the 80 wallets, 15 of them went to the lucky bastards' pockets. A whopping 65 were returned to the owner. If the sample were qualified enough, it would be safe to say that roughly 81% of wallets lying on the streets of our lovely city would be returned to their owners.
As much as I would like to rant over how much has been stolen from me, I think I'd like to stop here and end the entry on a positive note. Honesty still does exist.
*content*